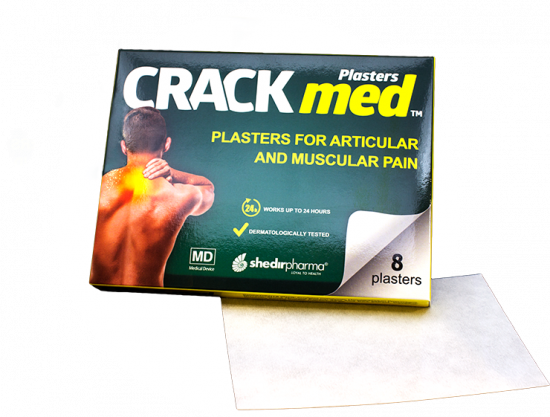 Once Daily, Single-Use Topical Analgesic Plaster
Crack Pain with Crackmed Plasters
Crack Pain with CRACKmed ™ Plasters

Open the sachet and take the plaster.
Remove the transparent protective film.
Place the adhesive part directly on the affected area.

You may cut this plaster into smaller size if needed.
Only use one patch at a time.
A Single patch could be applied for up to 24 hours.
(CAUTION: Do not use plaster for more than 4 consecutive days to avoid irritation or hypersensitivity.)
Indication for articular and muscular pain
CRACKmed ™ Plasters is a medical device used as a protective layer for the areas of the body suffering from muscular and articular pains and different types of contractures (rheumatic pains, sports traumas, stiff neck and low back pain).
The active ingredients of this plaster contains Arnica, Camphor, Devil's Claw, Willow and Boswellia which are recognized as traditional herbs that are rich in analgesic and anti-inflammatory properties.
Got more questions? How can we help you?